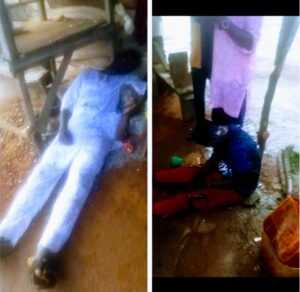 Shocks As Thunderstrike Mysteriously Kills Tea-Seller, Customer
A lightning has reportedly killed two persons during thunderstorm at Eyenkorin in Asa Local Government Area of Kwara State.
A lightning is the flashing of light produced by a discharge of atmospheric electricity. It's usually followed by a thunder caused by sudden expansion of the air in the path of the electrical discharge.
The victims are a tea seller, popularly known as Mai tea, and his customer.
The incident occurred at Onigbegiri junction of Eyenkorin on Thursday evening during a downpour.
An eyewitness, Mr Mojeed Onigbegiri, who spoke with journalists said the tea seller, a Hausa man, and an unidentified man, who came to buy tea died instantly when the lightning struck during the heavy rainfall in the area at about 6:30pm.
Concerns have been raised regarding the removal of the lifeless bodies, prompting an appeal from the local community to the Kwara State government, Nigeria Police Force, and other security agencies for immediate intervention.
The incident serves as a stark reminder of the powerful and unpredictable forces of nature, emphasizing the need for safety precautions during severe weather conditions. Authorities are urged to prioritize the safety and well-being of the community to prevent similar tragedies in the future.Further investigations are underway to gather more details and ascertain the circumstances surrounding this tragic occurrence. The community remains grief-stricken, mourning the loss of these two lives that were unexpectedly cut short by the wrath of nature.
The PUNCH