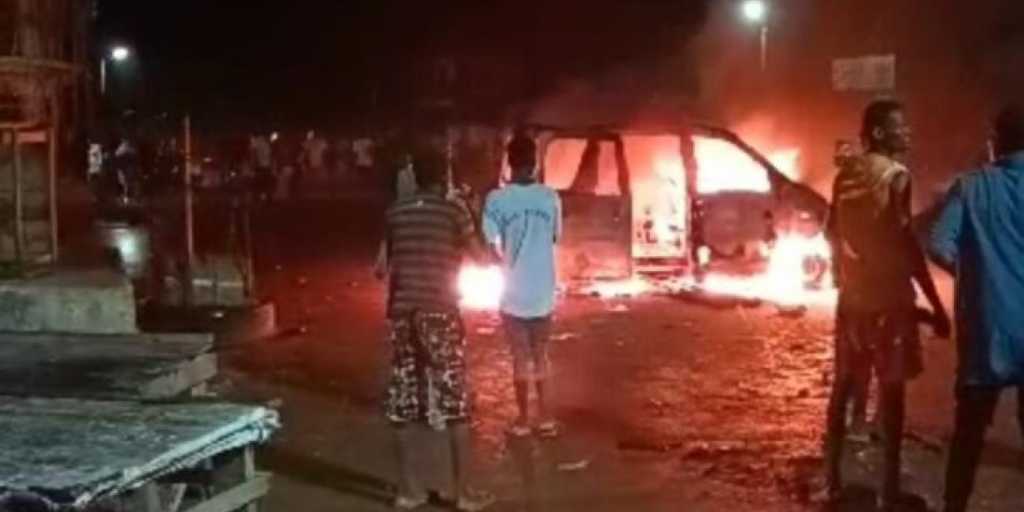 Sit-At-Home Enforcers Burn Orie Amaraku Imo State Market, 100 Of Shops, Cars, Tricycles, Destroyed
Hoodlums allegedly enforcing the one week sit-at-home order in Imo State, South East Nigeria have attacked the popular Orie Amaraku market, located in Isiala Mbano Local Government Council Area.
The hoodlums in a viral video, burnt commercial tricycles, and cars, shot sporadically in the air at the market square which is located along Owerri Okigwe road.
The incident we gathered on Saturday morning, took place on Friday night.
The development left hundreds of shops in ruins as several millions of naira worth of goods was destroyed in the market.
The unidentified gunmen, in a short viral video  were captured burning and attacking traders in the market and commercial vehicles of residents who refused to obey the "sit-at-home" order. In the viral video, a voice was overheard saying; "If you come to market tomorrow, anything you see take. They unknown gunmen have written to the monarch concerning the sit-at-home order. It is happening live, it is happening live in Amaraku market.
"The unknown gunmen came this night and were shouting 'Amaraku no de hear word, Amaraku no de hear word' that's what they were shouting. they brought all passengers down and burned the taxi to ashes. They came this night.
"Even the soldiers in the Area are nowhere to be found. Everybody have ran away. The owners of the vehicles have been crying but there is nothing they can do.
"Tomorrow is the daily market day of Orie Amaraku, the unknown gunmen came today and attacked the market, telling traders not to come out tomorrow. It happened live in Amaraku."
Attempts by SaharaReporters to speak with the Imo State Police Command proved abortive as the Command's spokesperson, ASP Henry Okoye, could not be reached on telephone as of the time of filing this report.
SaharaReporters