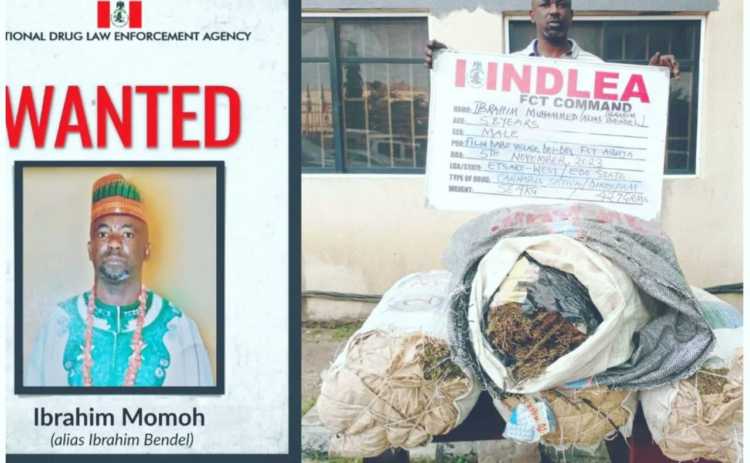 Wanted Abuja Drug Kingpin Rearrested By NDLEA 7 Years After Escape From Prison
Seven years after his escape from prison custody following his conviction for drug dealing, a notorious major distributor of illicit substances within the Federal Capital Territory, Abuja, Ibrahim Momoh, popularly known as Ibrahim Bendel, has been arrested by the National Drug Law Enforcement Agency (NDLEA) during a raid of his hideout at Filin Dabo, Dei-Dei area of the FCT.
Ibrahim Momoh was first arrested on 27th November 2014 with cannabis sativa weighing 385.1kgs, prosecuted, convicted and sentenced to seven and a half years in prison on 22nd July 2015 but while serving his jail term at Kuje, he escaped from prison custody on 16th May 2016.
Following credible intelligence, NDLEA operatives on 20th November 2022 stormed the warehouse of the fleeing ex-convict, Ibrahim Momoh, and recovered 81 jumbo bags of cannabis weighing 1,278kgs.
A statement on Sunday By NDLEA said the store was located within his poultry farm in Dei-Dei area of the FCT. Though Momoh was not around at the time, his warehouse manager, 55-year-old Ghanaian, Richard Forson Gordon was arrested, prosecuted and sentenced to two years in jail. The Agency thereafter declared Ibrahim Momoh wanted.
The manhunt for the drug lord paid off on 5th November 2023 when operatives again raided his hideout at Filin Dabo, Dei-Dei area of Abuja where he was arrested with 56.9kgs of cannabis sativa and 42.7 grams of Diazepam. In another raid in the same area of the FCT on Monday 13th November, a suspect Yusufa Ibrahim was arrested with 75.3kgs of cannabis.
Meanwhile, a massive operation in the forest of Efon Alaye in Efon local government area of Ekiti state on Saturday 18th November 2023, led to the destruction of 52,500 kilograms of cannabis sativa covering over 21 hectares of farmland while a total of 92 bags of same substance weighing 1,380 kilograms were recovered and another 250 bags weighing 3,000kgs stored in different huts on the farm were also burnt.
The Director, Media and Advocacy of the NDLEA, Mr. Femi Babafemi said in the statement that, no fewer than 15 suspects were arrested on the farm during the operation.
In Ondo state, the statement said, five persons including another wanted drug kingpin, Christopher Onyebuchi were arrested at New Bridge Compound, Idoani on Wednesday 15th November and a total of 1,945 kilograms of cannabis was recovered from them.
Onyebuchi had earlier been arrested by NDLEA on 25th March 2022 with 89kgs of same substance but jumped bail after he was arraigned at the Federal High Court, Akure.
Operatives in the state also on Sunday, 12th November raided Upemen village in Owo where they recovered 1,834kgs of same substance with 273kgs also seized the previous day, Saturday 11th November at Ipesi Akoko.
While NDLEA officers in Sokoto recovered 290kgs of cannabis from a female suspect, Fatima Salmanu at Gangaren Tashar, Illela Sokoto in Sokoto North LGA on Thursday 16th November, their colleagues in Edo state evacuated 808kgs of the same psychoactive substance stored in a forest at Igueben on Monday 13th November.
Not less than 231kgs of cannabis were recovered and five suspects were arrested in a joint raid between NDLEA operatives and soldiers in Kwande council area of Benue state on Monday 13th November and arrested Those arrested, Denen Terhemba, Liambee Iorhuna, Iorhuna Sughnen, Aboh Sonter and Msendoo Tyokaa.
While operatives in Ogun state on Tuesday 14th November arrested a suspect, Tony Jonah at Abule Iroko, with cannabis sativa weighing 67kgs, those in Lagos arrested Chike Agu at Ago Palace way, Isolo with 364.3kgs of Loud, a variant of cannabis.
In Imo state, NDLEA operatives on patrol along Owerri -Onitsha expressway on Monday 13th November, intercepted a truck marked XS 669KRD driven by one Orji Ifeanyi and a search of the truck led to the seizure of 82,320 pills of opioids including Tramadol 225mg, and Diazepam as well as 32.5 litres of codeine cough syrup and 100 pieces of Molly weighing 49.62 grams.
The statement said War Against Drug Abuse (WADA) advocacy campaign of the Agency continued in equal measure in schools, markets, worship places and others across the country in the past week.